Positive Material Identification (PMI) Testing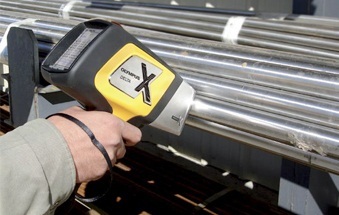 Sadhana NDT Services enhances its Non Destructive Testing offering with Positive Material Identification service. Sadhana's on-site inspection and testing team has multiple highly sophisticated handheld / portable X-Ray Florescence (XRF) Spectrometers which can measure the chemical composition of the materials, non-destructively and accurately.

The range of equipment available for undertaking Positive Material Identification (PMI) at Sadhana NDT Services is unparalleled in India.

Sadhana NDT Services provides Positive Material Identification (PMI) services for site testing for various applications like:

Non- Destructive Metal Analysis and Verification for all kinds of ferrous as well as non-ferrous metals.
Quality Control Activities.
Segregation of metal mix-up at site.
RoHS Screening (link to RoHS write-up) of various electrical, electronic, composite, coated and many other metallic and non-metallic components.
Scrap Sorting
Measurement of heavy metals in soils, liquids, minerals, etc.

Sadhana NDT Services's Positive Material Identification service is fast becoming an integral part of process safety management in the petroleum refining, petrochemical and electric power generation industries in India, Middle-East and Asia-Pacific.

Using various X-Ray Florescence (XRF) instruments, engineers at Sadhana NDT Services can provide elemental identification and quantitative determination without regard to form, size and shape. No samples need to be cut during PMI.
Enquire Now